YURIKO MASK

Clean and elegant - Our fashionable mask
Even when pursuing a fashionable look, it is still vital to guarantee a mask's main function.
The YURIKO mask has a delicate floral design whilst still functioning as an effective disposable mask proven to cut 99% of airborne particles in filter performance tests.
It features a nose wire that fits comfortably around the nose and the mask's three-dimensional pleating process ensures a comfortable fit around the face.
Product Features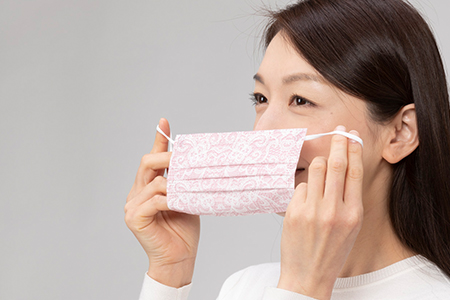 Complementing the face
We can offer more than a plain and simple mask. Our intention when designing this mask was for people to enjoy wearing their mask and enjoy choosing which colour compliments what clothing. The coral pink colour gives a lovely impression.
The beige blends in nicely with the skin and the ice blue gives a neat, clean appearance.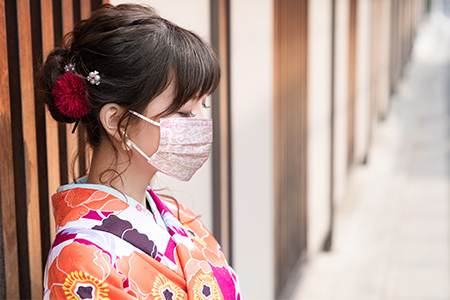 An excellent gift idea
The attractive design of the box makes this mask a perfect gift to someone. It is particularly well suited to be worn at graduations, ceremonies, and similar events where the mask can be worn to stand-out and compliment the person wearing it.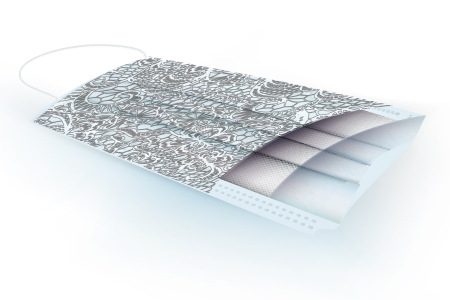 Featuring a 3-layer filter
The mask is composed of a three-layered structure. There is a non-woven filter in the first layer, a grain-fiber melt blown filter with a dense structure in the middle layer, and another non-woven filter in the third layer. This three-dimensional structure effectively blocks out harmful particles, whilst also allowing the user to breathe comfortably.
The non-woven fabric used inside the mask is soft and pleasant to the touch, making it suitable for a long duration of use before disposing.
YURIKO PRODUCT INFORMATION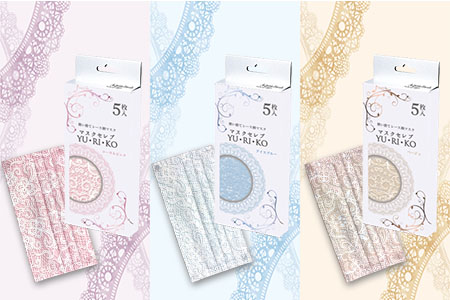 YURIKO MASK Product Information
---
Product name
:YURIKO Mask(pleated mask)
Target
:common-cold, pollen, dust etc.
Materials
:main body - filter - polypropylene
:ear straps - nylon, polyethylene
:nose fitter - polyethylene
Contents
:5 masks
Size
:Width - approx. 173mm x Height - approx. 90mm
Country Of Manufacture
:China
Fabric Used
:Japan Made (Asahi Kasei Advance Ltd.)
Recommended Retail Price
:498 JPY