iO-MAX

The Mask that not only defends, but also ATTACKS.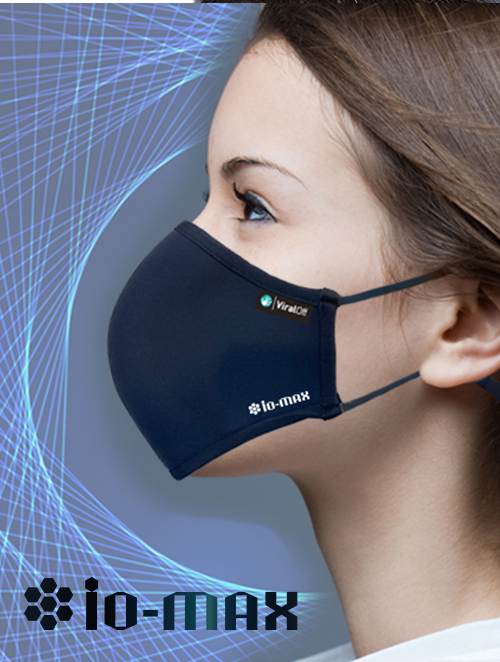 This mask is not designed solely for defence. It is designed to actively attack harmful particles around you.
The mask generates negative ions thet attacks harmful substances that invade the area around the face.
Product Features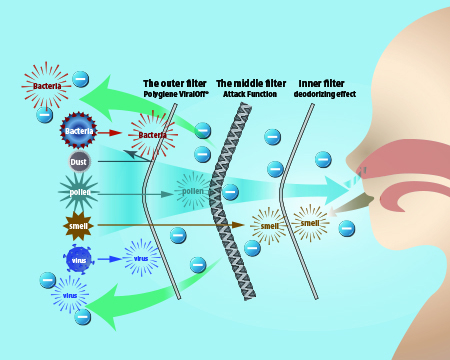 Ideal three layer structure that combines attack and defense!
・The outer filter (shield function) adopts the processing technology ViralOff® developed by the Swedish company, Polygiene. This reduces the amount of certain viruses on the fibers. (Testing method: ISO 18184:2019)
・The middle filter (attack function) uses a special fabric developed by AquaBank that generates 'negative ions'. It releases negative ions that attack odors and harmful substances that invade the facial area. (Patent pending)
・For the inner filter (skin-friendly deodorant function) deodorant stretch fiber 'ROICA® CF*2 is used. The smooth, bare mesh fabric is gentle on the skin and creates an ionized state on the surface of the yarn, which absorbs unpleasant odors (ammonia, acetic acid, isovaleric acid) and suppresses them.
※ 1 Polygiene ViralOff® (Polygiene's registered trademark)
※ 2 ROICA® is a registered trademark of Asahi Kasei Corporation for premium stretch fiber.
※ Illustrations are for illustrative purposes only.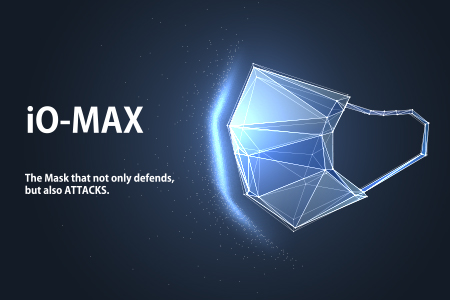 The Functions of iO-MAX
・PFE (particle collection efficieny) 99%
・BFE (bacteria collection efficiency) 99%
・VFE (viral filtration efficiency) 99%
・99% pollen collection efficiency (pollen test)
. When being worn, iO-MAX eliminates 96-99% of unpleasant odors . Attacks and removes germs and bacteria around the area of the mask.
This is the function of the middle filter.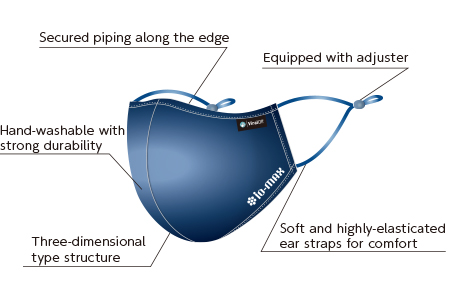 The pursuit of functionality, comfort and convenience
The edges are carefully finished with piping. This ensures a perfect fit to the face line. The three-dimensional structure creates a space around the mouth area.
The fit is natural, allowing you to talk and breathe comfortably.
The ear straps are flat, soft and highly elastic. The length can be adjusted to prevent ear pain.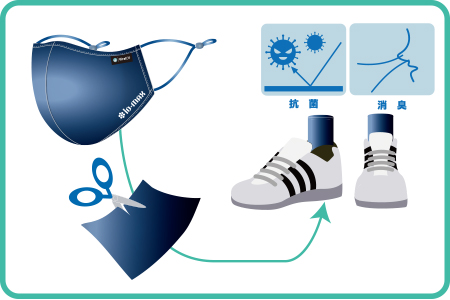 The new concept of a reusable mask
The mask market has expanded 12 times to 500 billion yen in 2020, compared to the 40 billion yen market in 2019. With the growth of the mask market, the negative effect masks have on the environment is becoming a problem.
iO-MAX - No waste!
If you cut the mask into smaller pieces, it can be put into …
Shoes, drawers and areas where odors can gather - re-use the mask!
---
iO-MAX PRODUCT INFORMATION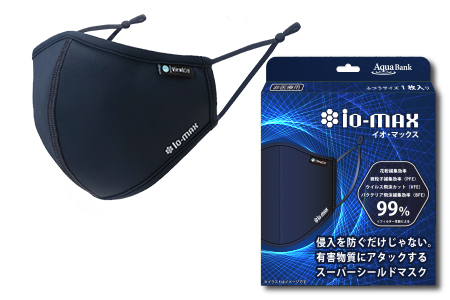 iO-MAX
---
Product name
:iO-MAX(pleated mask)
Target
:common-cold, pollen, dust etc.
Materials
:Outer Layer (Polyester, polyethylene)
:Middle Layer (Polyester, Cupra)
:Inner Layer (Polyester, Polyethylene)
:Ear Straps (Nylon, Polyethylene)
:Adjuster (Silicone)
Contents
:1 masks
Size
:Approx. approx. 230mm x Height approx. 140mm
Country Of Manufacture
:China
Fabric Used
:Japan Made (Asahi Kasei Advance Ltd.)
Recommended Retail Price
:1980 JPY