COOLMAX21

The reusable mask with the 'cool' touch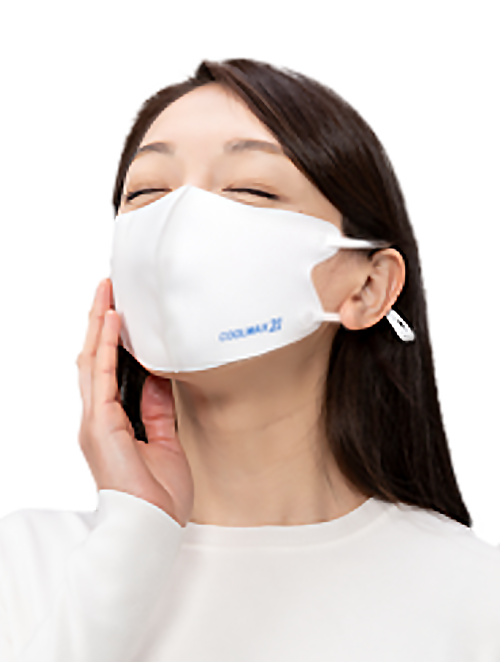 Experience the cool-touch function of the mask, ideal for use in warmer climates. With a Q-MAX value rating of 0.5 or higher, COOLMAX 21 holds the highest level in the industry.
Product Features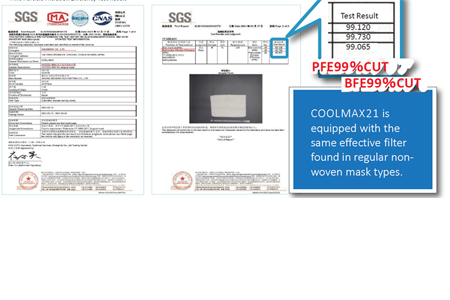 PFE/BFE/VFE 99%CUT.
A washable fabric mask with the same effective filter as a non-woven mask. A high performance mask that makes use of cutting edge technology.
ICE SILK
'Ice Silk ' is the name of our unique material used to create COOLMAX21. Ice Silk is a combination of Ultra high molecular weight polyethylene (UHMWPE), Polyester and Spandex. The UHMWPE material is high quality and is naturally cooler due to the high density. It essentially creates a smooth service that leaves no room to trap heat. The blend of materials we use to make COOLMAX21 is naturally cool, and therefore we refer to this material as Ice Silk.
Little to no deterioration even after 20 washes.
The mask retains its shape and experiences little to no shrinkage even even after 20 wash cycles. This makes it functional and reusable.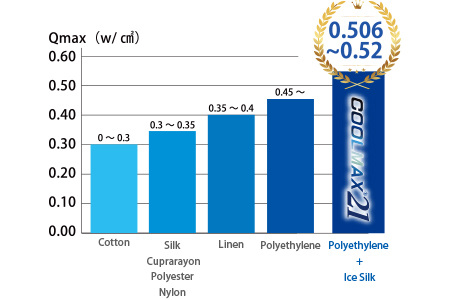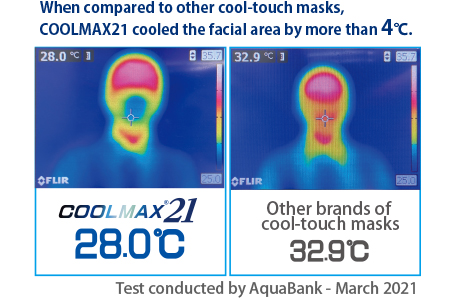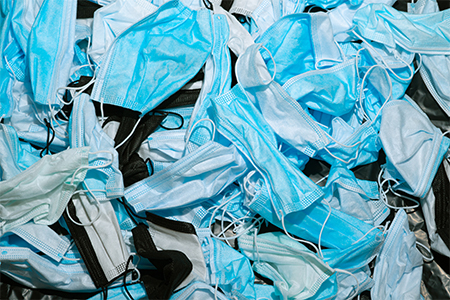 Currently, about 129 billion non-woven masks are used every month around the world.
In addition to increasing environmental pollution by increasing the amount of non-woven mask waste, there are also concerns that masks and gloves that are not disposed of properly may become vectors for the spread of viruses and pose a danger. Even if they are disposed of correctly, the CO₂ emissions from incineration during the disposal process contributes to air pollution.
More than 1.5 billion disposable masks are discarded in the world's oceans, affecting the ecological environment of marine life.
In order to solve these waste problems, we have succeeded in developing a reusable cloth mask with the same filtering performance as non-woven masks.
---
COOLMAX21 PRODUCT INFORMATION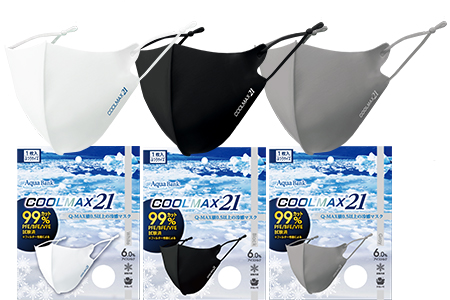 ---
Product name
:COOLMAX21
Target
:Common cold, Pollen, Dust Etc.
Materials
:Main Body (Ultra high molecule weight polyethylene 80%
polyester 12%, spandex 8%)
:Ear Straps (nylon,polyurethane)
:Adjuster (silicone)
Contents
:1 Mask
Size
:Approx. height 13cm × width 12cm
Country Of Manufacture
:MANUFACTORING PLANT China Shanghai Factory
allied with Aquabank Co. Ltd
Recommended Retail Price
:600 JPY